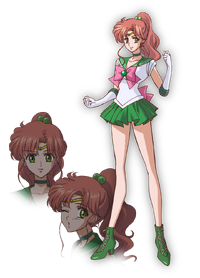 Hi!
Favourite characters
Sailor Jupiter (Makoto)
Sailor Neptune (Michiru) / Sailor Uranus (Haruka)
Random SM stuff
Ranking of SM seasons:
Sailor Moon (season 1)
Sailor Moon S
Sailor Moon Sailor Stars
Sailor Moon R
Sailor Moon SuperS (The latter two are very close, but I don't like Chibiusa as a senshi)
Crystal would be fourth. I like it, but it doesn't have anything that makes it "unique". There are tons of episodes left though, so I'll wait to see how much I like it.
Ranking of manga arcs:
Stars arc
Dream arc (almost a tie between the first two)
Dark Kingdom arc
Infinity arc
Black Moon arc (In my opinion this one is the worst)
Best attacks:
World Shaking
Deep Submerge
Dead Scream
Fire Soul
Venus Love Me Chain
Top 100 songs:
1. Moonlight Densetsu

50. Illusionary Silver Crystal

98. Wanting to be Together with You

99. I'll Go as Myself

100. Heart Moving
To-Do List
Finish all Sailor Stars episodes. 
Make all episodes pages. (The only season left is SuperS).
Community content is available under
CC-BY-SA
unless otherwise noted.