The following article is currently being improved for the benefit of all visitors. Pages carrying this template may contain issues which will be fixed as soon as an editor is available to do so. Please bear with us while improvements are being made. Therefore we request visitors to give editors time and patience to work on the page and assume good faith until the edits are complete. We apologize for the inconvenience this may cause in the meantime.

Please be aware that pages which are not given such a chance before this template is removed will be protected until an experienced editor is available to work on the page.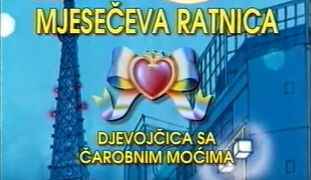 This is a article covering any releases of the Sailor Moon series in the country of Croatia.
Sailor Moon in Croatia refers to translations and merchandise distributed in Croatia.The Croatian title for the adaption is Mjesečeva Ratnica (Moon warrior).
Broadcast of Sailor Moon in Croatia started in July 2001. The first season was broadcast in its original Japanese language with Croatian subtitles but the other seasons were dubbed in Croatian. All five seasons aired on the Nova TV channel.
Censorship and changes
The Makaiju arc of Sailor Moon R was aired as part of the first season, and season two begins with the Black Moon Arc.
Names
Main characters are left with their original Japanese names intact. The Senshi are referred to by their respective planet's name with "ratnica" added at the end, which means "warrior," but it can be translated as "soldier." As a group, the Senshi are called "ratnice" or "ratnice u mornarskim odjelima." The names of the Senshi are as follows:
| Character name: | Croation Dub Name: |
| --- | --- |
| Sailor Moon | Mjesečeva ratnica (all forms) |
| Sailor Mercury | Merkurova ratnica |
| Sailor Mars | Marsova ratnica |
| Sailor Jupiter | Jupiterova ratnica |
| Sailor Venus | Venerina ratnica |
| Sailor Chibi Moon | Ratnica Chibi Moon |
| Sailor Pluto | Plutonova ratnica |
| Sailor Uranus | Uranova ratnica |
| Sailor Neptune | Neptunova ratnica |
| Sailor Saturn | Saturnova ratnica |
| Sailor Star Fighter | Zvjezdani borac |
| Sailor Star Healer | Zvjezdani iscjelitelj |
| Sailor Star Maker | Zvjezdani stvoritelj |
Transformations and attacks
Transformations
Moći Mjesečeve prizme, skupi se/pojavice! (Moon Prism Power, Gather/Appear!)
Merkurova moći, skupi se/pojavice! (Mercury Power, Gather/Appear!)
Marsova moći, skupi se/pojavice! (Mars Power, Gather/Appear!)
Jupiterova moći, skupi se/pojavice! (Jupiter Power, Gather/Appear!)
Venerina moći, skupi se/pojavice! (Venus Power, Gather/Appear!)
Plutonova moći, pojavice! (Pluto Power, Appear!)
Neptunova moći, pojavice! (Neptune Power, Appear!)
Uranova moći, pojavice! (Uranus Power, Appear!)
Attacks
Boj Mjesečeve Tijare (Moon Tiara Action)
Rast Mjesečevog Liječenja (Moon Healing Escalation)
Rast Mjesečeve Princeze (Moon Princess Halation)
Sapunica (Shabon Spray)
Duša Vatre (Fire Soul)
Nadmoćna Grmljavina (Supreme Thunder)
Sjaj Polumjeseca (Crescent Beam)
Theme song
Croatian:
Reci čarobnu riječ I dobit ćeš moć Uzmi kristal i rasvijetli noć Ti možeš to U boj moraš poć Bori se ti sad protiv tame te  Samo budi prevedna i dalje Ti možeš to Sile šalju te  Ratnice, ratnice, ratnice  Mjesečeva ratnice Kristale ti vidi gdje je sad Ratnice  Mjesečeva ratnice 
English:
Say the magical word And you'll get the power Take the crystal and illuminate the night You can do it To battle you have to go Fight now against the darkness Just keep on being just You can do it The forces are sending you Sailor, Sailor, Sailor Sailor Moon Crystal, see where is (she) now Sailor Sailor Moon