The following article is currently being improved for the benefit of all visitors. Pages carrying this template may contain issues which will be fixed as soon as an editor is available to do so. Please bear with us while improvements are being made. Therefore, we request visitors to give editors time and patience to work on the page and assume good faith until the edits are complete. We apologize for the inconvenience this may cause in the meantime.

Please be aware that pages which are not given such a chance before this template is removed will be protected until an experienced editor is available to work on the page.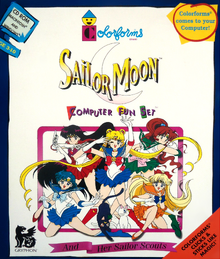 Sailor Moon and Her Sailor Scouts Computer Fun Set is a video game released for Windows 3.1 and Macintosh by the Gryphon Software Corporation in 1996.
Information
The game was based on the Colorforms toy set. Sailor Moon characters and images could be put on one of twelve backgrounds from the anime (redrawn in 256 colours) and printed or saved to a disk. When a character was added to a background a sound clip from DiC's English dub would be played.
Gallery
Community content is available under
CC-BY-SA
unless otherwise noted.