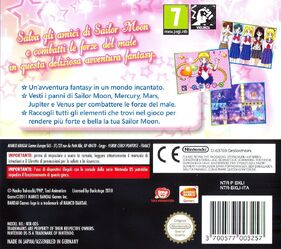 Sailor Moon: The Shinning Moon (Sailor Moon: La Luna Splende) is a 2D platforming game. Created by Bandai Namco Europe, the game was released on March 16, 2011 for the Nintendo DS. The game was exclusively released in Italy. Sailor Moon: La Luna Splende is titled after the second season of the Italian dub. It is the first Italian language game to be based on the series, as well as the only Sailor Moon game for the Nintendo DS. The game received a PEGI 7 rating, meaning the game is meant for people ages 7 and up.
Plot
Nina lies unconscious in the hospital, Bunny and her friends go to see her. Luna informs the girls that a demon may be the cause and tells the girls that "to save her, one of them must enter Nina's dreams."
Game Play
To go to each dream/world the player must guide each of the five Inner Sailor Senshi and collect 10 crystals, as well as several treasure chests. The boss is Lord Kaspar (Kunzite).
Characters
Villains
Worlds
Worlds of Flowers
Worlds of Gems
World of Enchanted Palace
Trivia
This is the first, and so far only, game to be released for the Nintendo DS.
Despite the fact that "La Luna Splende" is the Italian name of the second Sailor Moon season, no second season's villains are featured in the game: Lord Kaspar only appears in the first season of the anime.
Gallery
Community content is available under
CC-BY-SA
unless otherwise noted.