The following article is currently being improved for the benefit of all visitors. Pages carrying this template may contain issues which will be fixed as soon as an editor is available to do so. Please bear with us while improvements are being made. Therefore, we request visitors to give editors time and patience to work on the page and assume good faith until the edits are complete. We apologize for the inconvenience this may cause in the meantime.

Please be aware that pages which are not given such a chance before this template is removed will be protected until an experienced editor is available to work on the page.
Pretty Soldier Sailor Moon SuperS: Sailor Moon For The First Time in English
(美少女戦士セーラームーンS: セーラームーン  と はじめて の えいご/Pretty Soldier
Sailor Moon SuperS: Sailor Moon to Hajimete no Eigo)
 is a
video game
released for the
Playdia
by
Bandai
in 1995.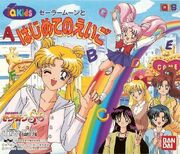 Overview
The game is based on the SuperS season of the anime. As the name suggests, it teaches children English.
Lessons
Lesson 1 With Usagi
Chibusa is at home with Usagi. Minigames in this lesson are:
Dressing Usagi for Winter
Guessing what part of the body out of 4 possible options is in the insert picture
Lesson 2 With Ami
Ami invites Chibiusa into town. At the end they see Gurio in the hospital. Minigames in this lesson are:
Guessing which flower is being spoken out of 6 possible options.
Gallery
Community content is available under
CC-BY-SA
unless otherwise noted.