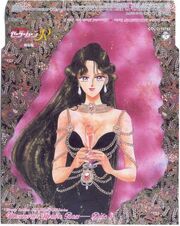 Disc 8 of the Sailor Moon Memorial Music Box.
The eighth disc of the box was covered music from the Sailor Moon R movie. There were two vocals on this disc, including the theme song for the movie. Tracks 21-30 were bonus tracks. The final three tracks was made up of various sound effects heard through the movie and the series.
Track List
#
Song Title
Song Version
1
"Prolouge"
M201
2
"Moonlight Densetsu (Karaoke)"
TV Edit
3
"Mamoru's Recollection"
M203, M204
4
"Fiore Appears"
M205
5
"Usagi's Worry"
M206
6
"Hana Youma Gurishina"
"Devil's Bewitching"
M207
7
"4 Sailor Senshi, Star Power, Makeup!"
M208A, M208B
8
"Sailor Moon vs Fiore"
M209, M210A, M210B, M210C
9
"Kisenian"
M211
10
"Tuxedo Kamen Toujou ~ Mamoru to Fiore"
"Tuxedo Mask appears - Mamoru and Fiore"
M212, M213, M214
11
"Tsuisou no Fiore"
"Fiore's Recollection"
M215, M216
12
"Sailor Teleport!"
M217, M218
13
"Global Invasion Plan"
M219
14
"Hana Meiro no Shitou"
"Struggle to Death"
M220
15
"Sailor Moon vs Fiore"
M221, M222
16
"Back to Life"
M223, 224A, M224C, M224B
17
"Moon Revenge Karaoke"
N/A
18

"Revival Serenade"

M226
19
"Moon Revenge (Peach Hips)"
N/A
20
"I Am Sailor Moon (Kotono Mitsuishi)"
N/A
21
"Dai 2 kai rokuon mishuu rokugeki hanshuu"
M110B, M133B
22
"Tuxedo Night"
Instrumental Version
23
"Luna!"
Instrumental Version
24
"Initial U"
Instrumental Version
25
"Senshi no Omoi"
Instrumental Version
26
"Garnet Guardian"
Instrumental Version
27
"Sai Rai (Second Coming)"
Instrumental Version
28
"SE (Sound Effects) Moonlight Densetsu Arrange"
Mono
29
"SE (Sound Effects) 1"
Mono
30
"SE (Sound Effects) 2"
Mono
Community content is available under
CC-BY-SA
unless otherwise noted.