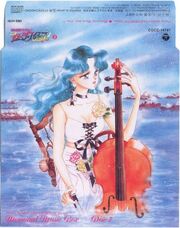 Disc 7 of the Sailor Moon Memorial Music Box.
The seventh disc covered more music from the final season. It included instrumental version to seven songs from the final season as well. The last track was a bonus track.
Track List
#
Song Title
Song Version
1
"Todokanu Omoi - My Friend's Love"
Instrumental Version mono
2
"Where is that person...?"
M639, M635, M640
3
"Seiya, Taiki, Yaten"
M636, M637, M638
4
"Campus Idols"
M633
5
"Minako's Ambition"
M653, M653B, M654
6
"Ai no Megami no How to Love"
Instrumental Version
7
"Seiya's Memories"
M641
8
"Ginga Isshinbun Chigai Nakata Omoi"
"A Galaxy of Difference: One-Sided Love"
Orgel Version mono
9
"Sailor Stars Eyecatch Music"
M609
10
"Ginga TV's strategy"
M646, M644
11
"Take the Starseed"
M657, M649
12
"Phage comes attacking"
M647, M651, M656
13
"Star Power, Makeup!"
M634
14
"Sailor Starlight Appear"
M632
15
"Honoo no Sogekimono"
"Flame Sniper"
Instrumental Version
16
"We Believe You"
Instrumental Version
17
"Elegant Eternal Sailor Moon"
M624, M625, M627, M659, M626, M660
18
"Chibi-chibi"
M662, M662B, M663B, M663, M661
19
"Sailor Moon Christmas"
Instrumental Version
20
"Extreme Evil"
M650
21
"Determination"
M652
22
"Extreme Love"
M628, M642
23
"Peace"
M629
24
"Ai o Shinjiteru"
"I Believe in Love"
Instrumental Version
25
"Sailor Star Song"
Band Version
Community content is available under
CC-BY-SA
unless otherwise noted.