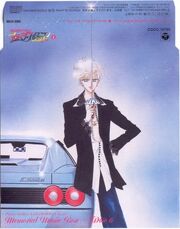 Disc 6 of the Sailor Moon Memorial Music Box.
The sixth disc of the box covered some music from the fifth season, as the music was split between two discs. The first one had the television edit to the opening as well as instrumental version to five other songs.
Track List
#
Song Title
Song Version
1

"Golden Queen Galaxia"

Instrumental Version mono
2
"Sailor Star Song (Kae Hanazawa)"
Opening 3 (TV Edit)
3
"Sailor Stars Subtitle Music"
M608
4
"5 High School Girls"
M604, M606, M607
5
"Neherenia Resurrects"
M618, M612, M613
6
"Hotaru's Prediction"
M621
7
"Mirror Paredory"
M614, M617A, M617B, M617C
8
"Toraware no Sailor Soldiers"
"Captured Sailor Senshis"
M615, M616, M619
9
"Princess no tameni..."
"For the Sake of the Princess..."
M603, M620
10
"Eternal Love"
M622, M602
11
"Sailor Stars Preview Music"
M611, M610, M605
12
"Parting with Mamoru, and then"
M601, M655, M601A, M655B
13
"Shadow Galactica"
M643, M645, M648
14
"Golden Queen Galaxia"
Orchestra Version
15
"Listen to Our Song (Todokanu Omoi Instrumental)"
M658
16
"Mayou Naka Hitori"
"Alone At Midnight"
Instrumental Version
17
"Chikara wo Awasete"
"Combining Energy"
Instrumental Version
18
"Ginga Isshinbun Chigai Nakata Omoi"
"A Galaxy of Difference: One-Sided Love"
Instrumental Version
19
"Nagareboshi he"
"To the Shooting Star, AKA Search For Your Love
Karaoke Version
Community content is available under
CC-BY-SA
unless otherwise noted.