Furaiki

フライキ
Information
Name source

不来季 ("not next season")

Alignment
Species
Gender

Female

Master
Mission

To lure out Chibiusa.

Death

Sailor Moon's Moon Princess Halation

Actors

Chiharu Kataishi
Furaiki
is a
droid
sent by
Petz
to lure out
Sailor Moon
and
Chibiusa
by causing a massive thunderstorm. Her source of power lies in a large drum she carries. When she bangs on her drum she can create rain storms and thunder. Her drum sticks can shoot bolts of lightning and she also uses a blowdryer to blast out powerful gusts of wind. She appeared in the
18th episode
of
Sailor Moon R
, the 64th episode overall. After being told by Rubeus that Usagi's greatest fear is thunder, Petz summoned Furaiki to create a thunderstorm that was to last for days. Chibiusa tried to use her time travel key to go back home but it instead caused all the gravity near her to disappear. Furaiki was drawn to Chibiusa's energy and attacked her but Sailor Moon came to stop her. Furaiki used her hairdryer to shoot out a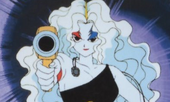 burst of wind that blew Sailor Moon into a wall and then shocked her with bolts of lightning. Her drum was broken by
Tuxedo Mask
, which caused Furaiki to get shocked herself. He then fired multiple roses at her which missed but distracted her long enough for Sailor Moon to use her scepter. Furaiki, having been affected by the scepter's attack, crashed out of the nearby window, dying. She dissolved with her emerald landing in Petz's hand.
Trivia
Gallery
Black Moon Clan

Community content is available under
CC-BY-SA
unless otherwise noted.