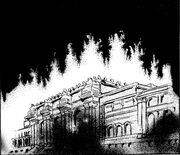 The
Dark Kingdom
, as it was originally referred to as in the Japanese version of the anime, but renamed by the company DiC in the dubbed North American version of the anime to the Negaverse. This term was not only used to describe the origin of the villains in the first season of
Sailor Moon,
but also to refer to the dimension that
Ail
and
An
(of the second season
Sailor Moon R
) are possibly allied to. The Dark Kingdom is a dark, evil dimension where the villains of
Sailor Moon
live. It is ruled by
Queen Beryl
and the
Queen Metalia
. It is full of
monsters
that work for Beryl and her four generals,
Jedite
,
Neflite
,
Zoycite
, and
Kunzite
.
In episodes 45 and 46, the Sailor Senshi make their way to the Dark Kingdom to fight Queen Beryl, but all except Sailor Moon are apparently killed by the DD Girls. Beryl then teleports Sailor Moon to the Dark Kingdom where she fights a brainwashed Prince Endymion, who is completely under Beryl's control But she managed to break the spell over him and he injured Beryl. Queen Metalia then combined with her and transformed her into a much bigger version of herself, but both were destroyed by Princess Serenity with Moon Prism Power. Presumably, the Dark Kingdom was destroyed as well, and all the Sailor Senshi's and Mamoru's memories were erased until Sailor Moon R.
In the Sailor V manga, the Dark Kingdom had a sub-division known as the Dark Agency. There sole main goal was to collect energy, and their reach spread further than Japan. It was run by Danburite, a subordinate of Kunzite, and was ultimately destroyed by Sailor V.
References
Community content is available under
CC-BY-SA
unless otherwise noted.