Aquatici and Veneti
were
Saphir
's minions in the
manga
and
second anime series
.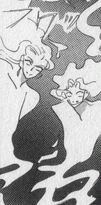 Manga Series and Crystal
In the manga, Aquatici and Veneti were a mostly shapeless figures, like spirits or wisps of smoke. They appear masculine, but their vague forms made it hard to determine if they had a gender. Saphir stated that he considered the pair to be his most perfect droids.
When Usagi arrived deep within the core of Nemesis, Saphir greeted her and told her that he was aware of Prince Demande's plan was doomed to failure. He then ordered both droids to kill her, but the power of the legendary silver crystal destroyed them.
Trivia
Gallery
Black Moon Clan

Community content is available under
CC-BY-SA
unless otherwise noted.